Features of the MikroTik Standard Enforcer
Should you want the features that are available to MikroTik Portal Pro Account Holders you simply need to upgrade your MikroTik Portal Free Trial Account to Pro (MikroTik Enforcer Pro Pricing).
Building Enforcers
Building your own Enforcer allows you to make use of our feature-rich MikroTik Content Filter and Reporting Engine using your existing MikroTik Routers.  The LucidView Configuration Script is MikroTik approved.
Simply follow the instructions described below and you will be able to protect your network from content you deem unfit.  If you are an IT Service Provider installing Standard Enforcers at your clients will provide a tremendous value-add to their existing services.
OVERVIEW
Login to your MikroTik Enforcer Portal where you will be able to generate one of two types of Install scripts for your MikroTik router:  Either a "Standard Enforcer" or a "Bolt-On Enforcer".
Please make sure you select the "Standard Enforcer" Script.
If you don't yet have a MikroTik Enforcer Portal Account please register now.
Standard Enforcer
A standard LucidView Enforcer is created from blank state using a Standard Enforcer script from the LucidView VAR Portal. All configuration settings are made according to the Portal, including IP addresses. (i.e. a Standard Enforcer should not be configured directly via MikroTik Router Configuration Interface once birthed. )
A "Standard Enforcer Script" must never be installed onto a MikroTik router that is already installed into a network, as all existing configurations are wiped and the IP addresses will be changed on the said MikroTik router.
LucidView Enforcer™ – Installation Guide
Clean up your Internet, protect your children from unsuitable content, manage your Internet to improve your gaming and video streaming experience, and even protect your company from employee misdemeanours.
The LucidView Enforcer™ is easy to setup: simply plug it in, power it up, and register your device online. This document will guide you through the installation process.
The LAN Ports on the device labelled 2; 3 and 4 can be used for any of your devices that require a physical cable. Wireless capable devices can connect to Wi-Fi network named "LucidView Enforcer™" with the LucidView Unique ID as the default password. This Unique ID number is located on the underside at the bottom of the device.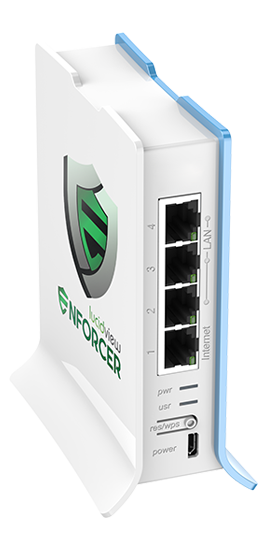 PDF Install Guide for Standard Enforcer
Powering the Standard Enforcer and connecting to its WiFi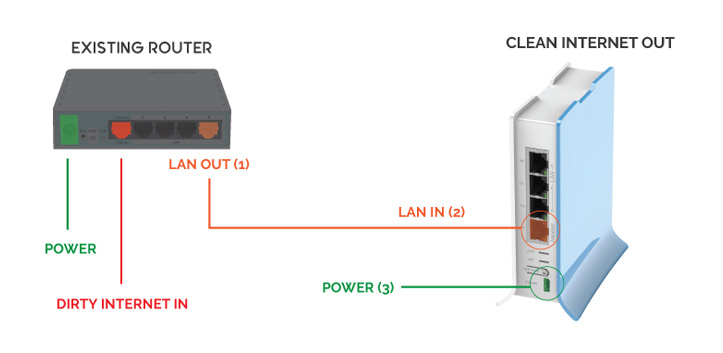 Rotate the device to view the ports at the rear of the device.
Connect the power cable to the power port at the bottom of the device, labelled on the device as 'power' (indicated in the graphic in GREEN).
Connect the LucidView Enforcer™ to your existing router via the Ethernet cable supplied. Connect the other end of the cable to the LucidView Enforcer™, via the port marked 'internet' (indicated in the graphic in orange).
Turn on the plug point to power up the device. The power light will illuminate.
The LucidView Enforcer™ is now on and ready to be activated online.
When the device is powered up, you will by default be able to connect to the Wi-Fi connection using the following settings:
Network Name: The name you have chosen for your device
Password: This is the unique number and letter combination you are provided with when you create a profile on the MikroTik Portal