LUCIDVIEW PROVIDES REMOTE NETWORK MANAGEMENT AND INTELLIGENT CYBER SECURITY ANALYSIS TOOLS
EVERYTHING YOU NEED TO REVEAL A LUCIDVIEW OF YOUR NETWORK ENVIRONMENT
WHAT CAN LUCIDVIEW DO FOR YOUR ORGANISATION?
• Pinpoint vulnerabilities and expose unauthorised connections in the business network
• Open a clear view of network traffic and employee internet use so these can be optimised
• Highlight bottlenecks in infrastructure that impact on network performance to improve connectivity speeds
• Mitigate the risks of employee devices in the workplace without the need for complicated proxy server solutions
• Proactively identify and neutralise malware threats before an attack can happen
• Effectively manage torrents and prevent unauthorised use of company resources to ensure fast internet speeds
• Provide clean, safe internet for all users by disabling untrustworthy connections
RANSOMWARE PROTECTION & DETECTION
RANSOMWARE PROTECTION & DETECTION
Available on:
EXAMPLES OF OUR DASHBOARD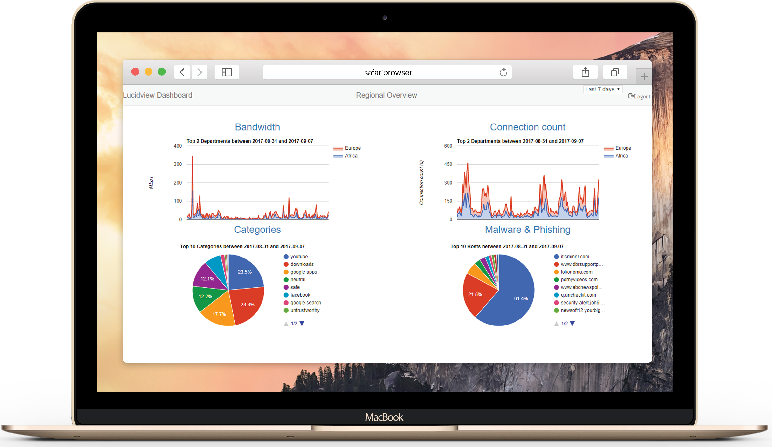 BUSINESS-READY NETWORK SOLUTIONS
THE SOLUTION IS COMPLETELY SCALABLE AND EASILY MANAGED FROM A CENTRAL POINT.
The LucidView Auditor is a sophisticated cyber security  tool designed to analyse internet traffic and provide detailed insight into your employees' internet activities.
LUCIDVIEW CONTENT & SECURITY FILTER
The LucidView Content & Security Filter is a DNS-based cyber security solution that delivers clean, safe internet by allowing your organisation to create…
The LucidView Enforcer comes standard with all the features of both the LucidView Auditor and the Content & Security Filter, with the additional cyber security…
The LucidView Guardian is a Dell-based appliance that is usually installed at your organisation's internet gateway to serve as a a firewall and proxy gateway…