Internet Management Solutions – An Overview
LucidView is a 100% White Label, back-end provider of Internet Management Solutions and Features.  We provide a value-add Cloud Service to ISPs, MSPs, FNOs, IT Service Providers.  We provide a sophisticated Content Filter, Comprehensive Usage Reports and Interactive Dashboards, Intrusion Detection and Prevention as well as effective Bandwidth Allocation using our FairShare solution.
The LucidView Cloud provides detailed Usage Reports as well as interactive Dashboards that can be drilled down to identify any anomaly. 
Our Content Filter is sophisticated, constantly crawling, analysing, classifying and adding new sites and is extremely difficult to circumvent. 
Our IDS/IPS based on indepth analysis of each and every connection and how it behaves, any suspicious connections are killed off immediately ensuring the security of your or your customers network.   
These are just a few of the management tools at your disposal using our solution.  We provide everything you need to effectively manage the Internet. 
If you are an ISP, MSP, FNO, general IT Service Provider or large Enterprise, this solution and its features can be branded as your own and sold on.
Alternatively, if you are a concerned parent you can build your own home unit simply by following the instructions we provide for the Standard Enforcer.  Building this will provide you complete management over what your children can access on the web.
If you are a MikroTik user, the Bolt-On Solution will provide you with valuable Web Management tools.
Both these solutions can be built by following our comprehensive instructional guides and video's.
We provide live demo's and a 30 day Free Trial which we urge you take up.
Our pricing is extremely affordable.
Technically speaking, we provide the following Internet Management Solutions:
We provide highly effective Internet Management Services for:
Large Enterprises
SMEs
Home Users, Concerned parents
We provide Internet Management Solutions for all shapes and sizes…
MikroTik Portal – create Enforcers.
Install types
Standard LucidView Enforcer – Home & SME Users
Bolt-On LucidView Enforcer – For existing MikroTiks
Multi Profile LucidView Enforcer for 1000 plus profiles – ISPs and Large Enterprises
Gateway Proxy for Large Enterprises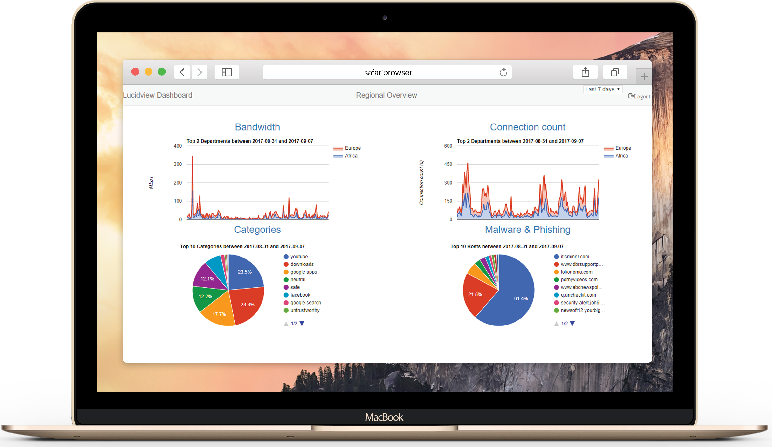 MikroTik Enforcer – manage your Internet Traffic
The MikroTik Enforcer is a configuration script for any MikroTik Router, running RouterOS. Applying this script to your MikroTik will create a MikroTik Enforcer.
The solution provides you with the tools to view and manage your Internet Traffic.  More importantly, it allows you to offer value-add services to your clients. The MikroTik Enforcer is feature rich, importantly, providing a sophisticated Content Filter.
See the MikroTik Enforcers Content Filter, Dashboard views and Reports.
Anyone familiar with MikroTik Routers can create LucidView MikroTik Enforcer using our Cloud.
In short.our solution allows you to decide;  what type of Content is allowed, when certain content may be accessed, how bandwidth is allocated and much more.
Please take a look at our Demo or advantage of our Free Trial for a taste of the power of the Made for MikroTik Solution.
LucidView Guardian – Creating Visibility and Management at your Gateway
The LucidView Guardian is an exceptionally powerful Proxy server/Firewall for Enterprise-sized organisations.
The Guardian provides these organisations with complete visibility on their Network and Internet Infrastructure. Moreover, it then provides an extensive array of tools whereby the organisation can manage their Internet, so it aligns with their Internet policies.
Installed at the gateway, with the ability to integrate into your AD. This is a powerful management, monitoring, trending and auditing solution.
Additionally it removes anonymity from browsing, which reduces Internet abuse and misuse dramatically.
The LucidView Guardian also has Content Filtering, blocking and time-based rules to provide you with an array of options.