Internet Content Filter for ISPs
LucidView is a back-end, 100% White Label Internet Content Filter for ISPs. Additionally, it is a  powerful cloud Reporting engine.  Our Web Content Filter and Cloud Services are designed primarily for ISPs and IT Service Providers.  They can also be used by Enterprise-sized organisations with large IT Departments. 
By using our sophisticated solutions you can provide your client with an affordable value-add.  Giving you the edge in a very competitive market.
You can provide our solutions to your client/departments. Equally as importantly, you can provide them under your own logo and branding.
The LucidView Content Filter and Cloud solution is designed to deliver custom clean, safe Internet, as defined by you or your client. Additionally, the client can be provided with a clear view of their Internet Traffic.  As well as, exactly how that traffic is being used.
Visibility and Internet Traffic Management
All our solutions, enjoy powerful Cloud based Reporting and Dashboard views on Internet traffic.  You can schedule Reports to be mailed to your client at times suitable to them.  Additionally, you can also provide your clientswith a Live Dashboard Overview of their traffic.  Visibility at a glance.
 Good visibility is the backbone of effective Internet management.
Our philosophy is: You can't manage what you can't see!
Internet Content Filter for ISP's – Value Add
LucidView's clients are largely providers of Internet connectivity. Using our products, our clients can set themselves aside from their competitors by offering their clients  "Clean Internet".  Each client is unique, therefore, the clean Internet you deliver can be customised to meet this definition.
The LucidView Content Filter and Reporting solution is a Cloud service.  It is extremely powerful and easy to administer for the ISP or service provider.
Clean Internet
While Clean Internet™ is unique to each client their are usually a number of common areas that everyone agrees does not fit the definition.  These would include explicit adult content, malware and security risks.
For example: Schools, Business, public WiFi access points, all have Clean Internet™ requirements.
Using our Internet Content Filter for ISP's, service providers are able to provide their customers with:
Live Dashboard views

Meaningful Reports

Content Filtering (Porn, malware, gaming, etc)

Identifying and Blocking remote hacker access (IDS)

Bandwidth Allocation
Please feel free to view our Live Demo and Free Trial.
 Please make use of the video's available if you wish to simply get an overview of the power of our Content Filter and Reporting Engine.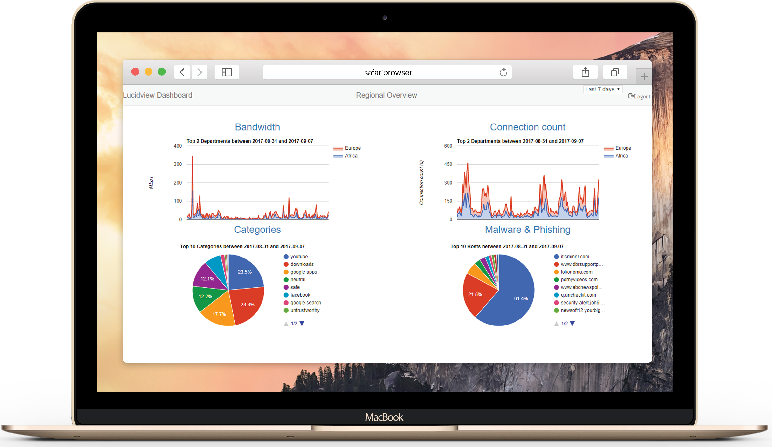 MikroTik Enforcer – manage your Internet Traffic
The MikroTik Enforcer is a configuration script for any MikroTik Router, running RouterOS service for MikroTik routers that provides visibility on Internet Traffic and the gives you the following key tools MikroTik Content Filter, Dashboard views and Reports to help you manage your Internet.
Anyone familiar with MikroTik Routers should be able to easily connect to the LucidView Cloud and create a LucidView MikroTik Enforcer.  The MikroTik Enforcer is feature rich and provides a sophisticated Content Filter the administrator can decide what type of Content is allowed onto the Network, when certain content may be accessed, how much bandwidth a specific device  or activity is allocated and much more.  Please take a loo at our Demo or advantage of our Free Trial for a taste of the power of the Made for MikroTik Solution.
LucidView Guardian – create Visibility
The LucidView Guardian is an exceptionally powerful Proxy server/Firewall for Enterprise-sized organisations. The Guardian provides these organisations with complete visibility on their Network and Internet Infrastructure and then provides an extensive array of tools whereby the organisation can manage their Internet so it aligns with their Internet policies.
Installed at the gateway, with the ability to integrate into your AD, this is a powerful management, monitoring, trending and auditing solution.  It removes anonymity from browsing, which reduces Internet abuse and misuse dramatically.  It has Content Filtering, blocking and time-based rules to provide you with an array of options.