Overview of the LucidView Internet MikroTik Content Filter
The LucidView Cloud provides two levels of Internet Content Filtering depending on how stringent your requirements are:
The LucidView MikroTik Content filter is enforced on two levels making it extremely difficult to circumvent:
DNS based Content Filter

  – Clean, safe Internet is becoming a basic requirement, as a result of the rapid increase in public WiFi access points. The LucidView MikroTik Content filter is an essential tool in meeting this requirement.

Firewall based Content Filter

– This is LucidView's more sophisticated MikroTik Content Filter. Each incoming and outgoing connection is analysed, classified and either blocked or allowed, depending on your needs.  This is key tool in ensuring your policy is enforced. Any connection in contravention, is immediately "killed" via the MikroTik Enforcer Firewall. 
Ultimately both aim to provide you and your clients with Clean Internet™ as per each client's own definition.
IMPORTANT:  Not familiar with MikroTik?  Not a problem. Get in touch with us and we will connect you with a skilled MikroTik service provider.
The LucidView MikroTik Content Filter Module Categories
The LucidView  MikroTik Content Filter is extensive and can be used by ISPs, large Enterprises, SMEs as well as home users. To turn your MikroTik RouterOS into a formidable Content Filter please visit the MikroTik Portal Product and follow the instructions and videos provided.
Extensive Database
LucidView does not rely on existing databases to ensure that content is always classified and categorised correctly.  We have our own crawlers that are constantly crawling the web looking for new sites to add to our already extensive database.
Always Learning
The MikroTik Content Filter is constantly learning and updating every hour of every day.  Thousands of new sites are added and classified every hour. This means if a new unknown site is published and you or your client access it,  within an hour the LucidView Web Crawlers will have browsed, analysed and categorised the site.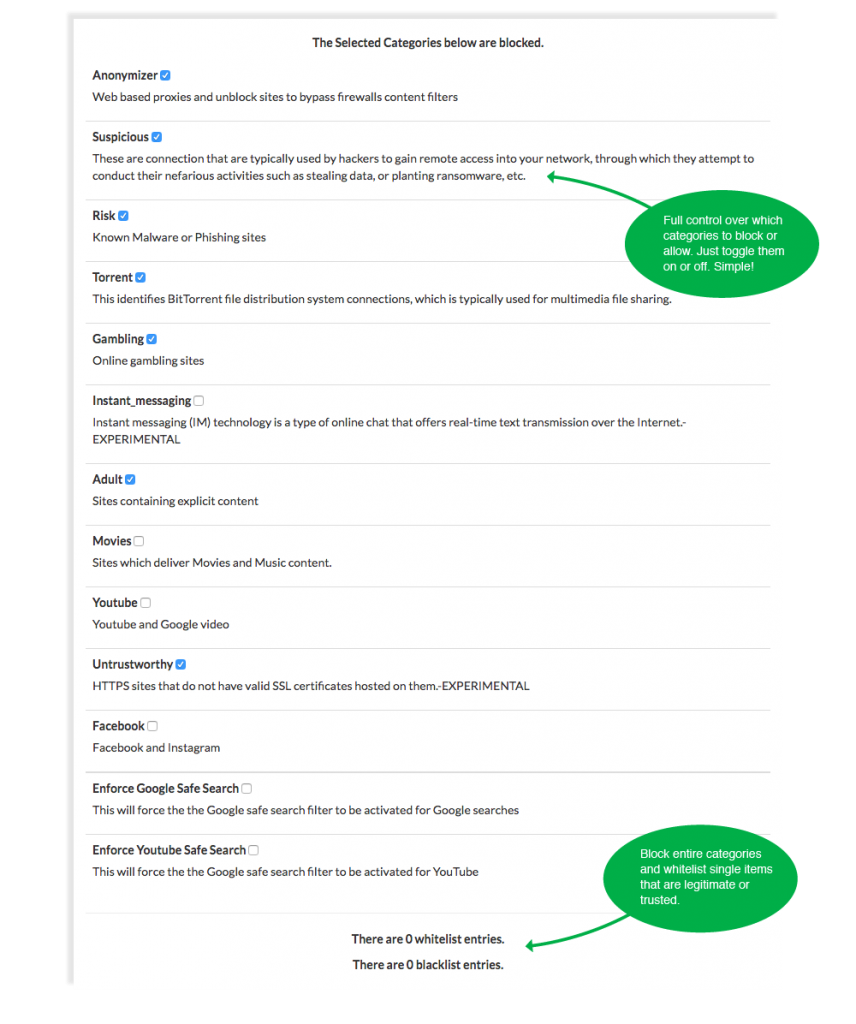 MikroTik Content Filter categories are as follows:
Adult

–

Sites containing explicit content.

Adverts – Sites hosting online adverts
Anonymizer

–

Web based proxies and unblock sites used to bypass Firewalls and thus, Content Filtering.

Big Tech –  Microsoft, Google and Apple applications
Big Tech Heavy – This category contains heavy bandwidth components of big tech companies such as: Microsoft updates, Facebook video, Instagram images and Apple iTunes. This category was designed to be used for lower priority shaping on congested Internet lines.
CDN – Content Delivery Networks
DoH – This identifies DNS connections over HTTPS. Blocking this category is HIGHLY recommended at all times, because this ensures that connections are correctly categories into the other categories. For example, not blocking this DoH category will result in many connections being incorrectly categorised as suspicious or torrent category.
Gambling

–

Online gambling sites.

Gaming – Gaming, and gaming related sites. – It is recommended that the "suspicious" also be blocked in conjunction with blocking this category to more effectively block online gaming
Instant Messaging

– Instant messaging (IM) technology is a type of online chat that offers real-time text transmission over the Internet.-EXPERIMENTAL

Movies

– Torrent trackers and Movies/Music streaming/download sites

Neutral – None of the other categories apply to these sites
Social Media – Facebook, Instagram, Twitter, Ticktok, etc
Suspicious

– A connection is regarded as suspicious when the host domain is unknown, and the connection is made on standard port. Typically VPNs, sometimes VOIP servers, and remote hacker connections are tagged in this category.

Torrent  – A connection is regarded as torrent when the host domain is unknown, and the connection is made on a nonstandard port. Typically DarkWeb, Torrent, and remote unauthorised hackers are identified in the category. Keep in mind that with torrents, blockinging this category will not fully block them, as the nature of torrents is allowing starting up new connections, but will greatly reduce them.
Untrustworthy

-This category is based on a sophisticated algorithm to detect DGA Malware types of connections. This is a popular way for remote hackers to gain access into networks.

VPN – Connections to Internet IP addresses making use of known VPN ports
YouTube – YouTube, Google video and Android updates
Enforce Google Safe Search

– This enforces the

Google Safe Search

feature on Google searches.
Enforcer YouTube Safe Search

– This will force the Google safe search filter to be activated for YouTube.
YouTube

 – Allows you to block or schedule time for YouTube, Google Video and Android Updates.
Ultimately, this is achieved by using the LucidView Cloud Service to turn your MikroTik Router into a MikroTik Enforcer, thereby providing critical visibility allowing for effective network management.
Not familiar with MikroTik?  Not a problem. Get in touch with us and we will connect you with a skilled MikroTik service provider.
This feature is also available on the Guardian Proxy Server.
Become an Enforcer Consultant
Register now
Mikrotik Portal
Pricing